This year the festival runs from Friday October 14th to Sunday 16th – mostly at Cavan Crystal Hotel:
Friday 13th Concert with Porterhead, Athena Tergis, Brenda Castles,
Saturday 14th Concert with The Moylurg Ceili Band and ÉIRU.
There are 14 Workshops over Saturday and Sunday;
An Historical Exhibition and Talks featuring Antóin MacGabhann, Marcus Ó Murchú, Martin Gaffney, Athena Tergis
A Compositions Workshop with Shane Meehan
The launch of The Ed Reavy International Fiddler of the Year Competition on Sunday at 1.30pm with over €2,000 in prizes – Junior and Senior Categories –
For lovers of Set Dancing, we are also hosting the Dancing in The Drumlins event in the Cavan Crystal on the same weekend with Ceili on Friday at 9pm featuring Johnny Reidy, Saturday afternoon at 2.30pm with Ceili Time, Saturday night at 9pm with Striolán and Sunday afternoon at 2.30 with The Swallows Tail. There are a number of Sets and Sean nÓs Workshops on Saturday and Sunday morning with Michael & Kathleen McGlynn, John Joyce, Marie Garrity and Marian Crowe.
For lovers of Drama – we have 3 Drama presentations in the Town Hall Cavan each night at 8.30pm.
Friday sees the Killian McGuinness play entitled "Tom Clarke's One True Love" presented by The Cornmill Theatre Group.
Saturday sees the John McManus play Danger Money presented by Seamus O'Rourke and
Sunday sees the Joe McManus play A Night at The Mart.
Download and Complete Entry Form:
ed-reavy-traditional-fiddle-competition-2016-entry-form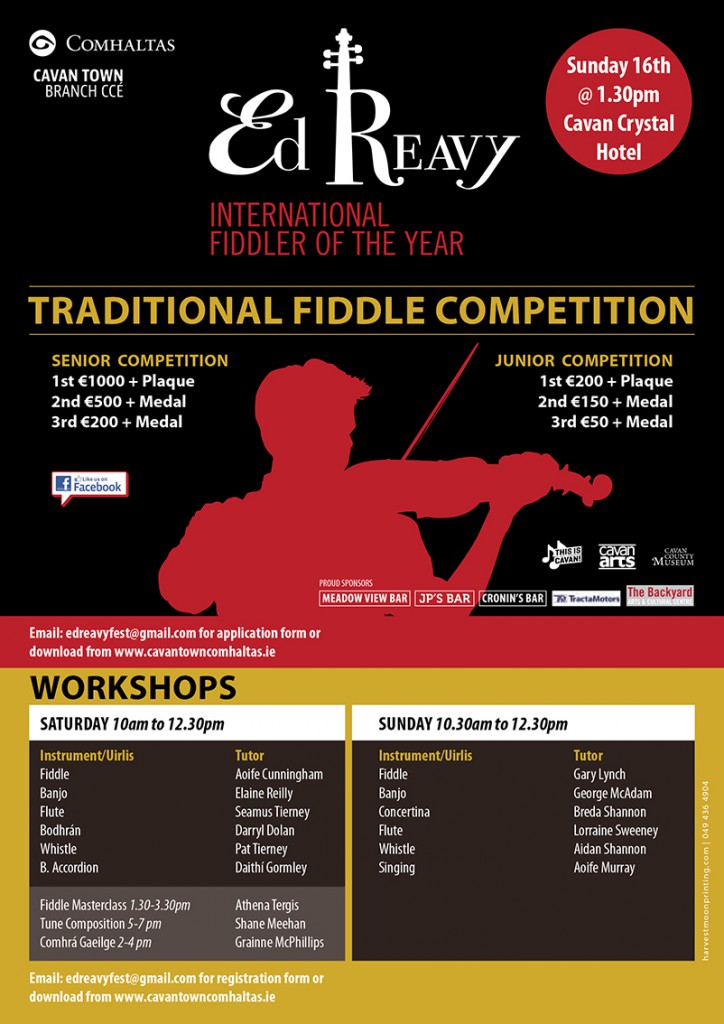 Download and Complete Workshops Entry Form:
ed-reavy-workshops-2016-registration-form