This year the festival runs from Friday October 13th to Sunday 15th – at The Cavan Crystal Hotel:



Friday 13th

– A night especially for the youth
3 Teenage acts will perform for 20 minutes each & this will be followed by a Trisco:
Mad 4 Trad                                                                                                                                          

These are a wonderfully talented young group of teenagers who have just returned to Ireland following performances at An Rí Ra Irish Festival in Butte Montana, USA.

Caidreamh:                                                                                                                 

Another local group of talented young musicians who have just recorded their first CD and will launch it as part of the festival

Music Generation Laois                                                                                  

The Music Generation Laois Traditional Programme has gone from strength to strength over the past number of years with some of Ireland's top tutors involved in the programme. From starting with Uilleann Pipes and Harp in 2012, the Traditional Programme now also has tin whistle, traditional flute, concertina, the annual Tionól (a weekend celebration of the harp and pipes) and a nationally renowned Traditional Orchestra
Saturday 14th
 8.30pm: 
Concert
 with GARADICE which consists of Eleanor Shanley, Dave Sheridan, Pádraig McGovern and John McCartin

The Saturday night concert will also feature a performance by
The winners of the 2017 Ed Reavy International Fiddler of The Year &
There are 14 Workshops over Saturday and Sunday;
*Historical Exhibition and Talk  5.30pm Saturday: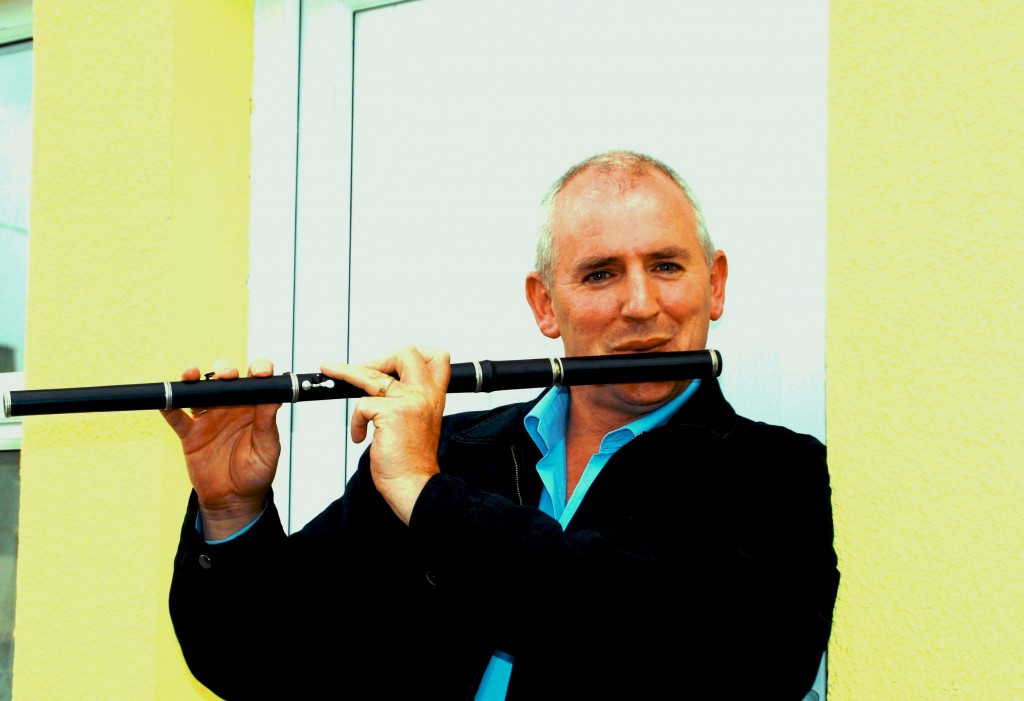 Marcus Ó Murchú is a well known flute player, researcher in Irish traditional music, and  collector of traditional music material. In 2013, when the All-Ireland Fleadh Cheoil was held in Derry, he was honoured as Ard-Ollamh (Chief Professorial Bard of Ireland) in recognition of his contribution to traditional music and the Irish language through his teaching, broadcasting and research work.
Marcus will give an illustrated talk entitled:
"The genius of John McGettigan, 1882-1958, entrepreneur, emigrant musician and singer in Ed Reavy's Philadelphia"  
Ed Reavy played with John Mc Gettigan and he recorded the only known song composed by Reavy.  Marcas Ó Murchú has located a rare copy and will play it and other recordings from the 1920s and 1930s from the Philadelphia area. The talk will be of interest to singers, music students, historians and people interested in emigration.  Marcas, using new technologies, rare photographs and letters, will bring to life the time Ed arrived in USA, through the life of the highly successful but largely forgotten friend of Ed Reavy's, Donegalman John McGettigan, fiddle player, businessman and singer of rousing Irish ballads.

Marcus will be accompanied by Antóin MacGabhann & Martin Gaffney,
A Compositions Workshop
The 2nd Ed Reavy International Fiddler of the Year Competition on Saturday at 1.30pm with over €2,000 in prizes – Junior and Senior Categories –
For lovers of Set Dancing, we are also hosting the Dancing in The Drumlins event in the Cavan Crystal on the same weekend with Ceili on

Friday

at 9pm featuring

The Copperplate

, Saturday night at 9pm with

Johnny Reidy

and

Sunday

afternoon at 2.30 with

The Glenside

. There are a number of Sets and Sean nÓs Workshops on Saturday and Sunday morning with John Joyce and Marian Crowe, as well as workshops on The Cavan Set, The Brushdance and The Priest in His Boots.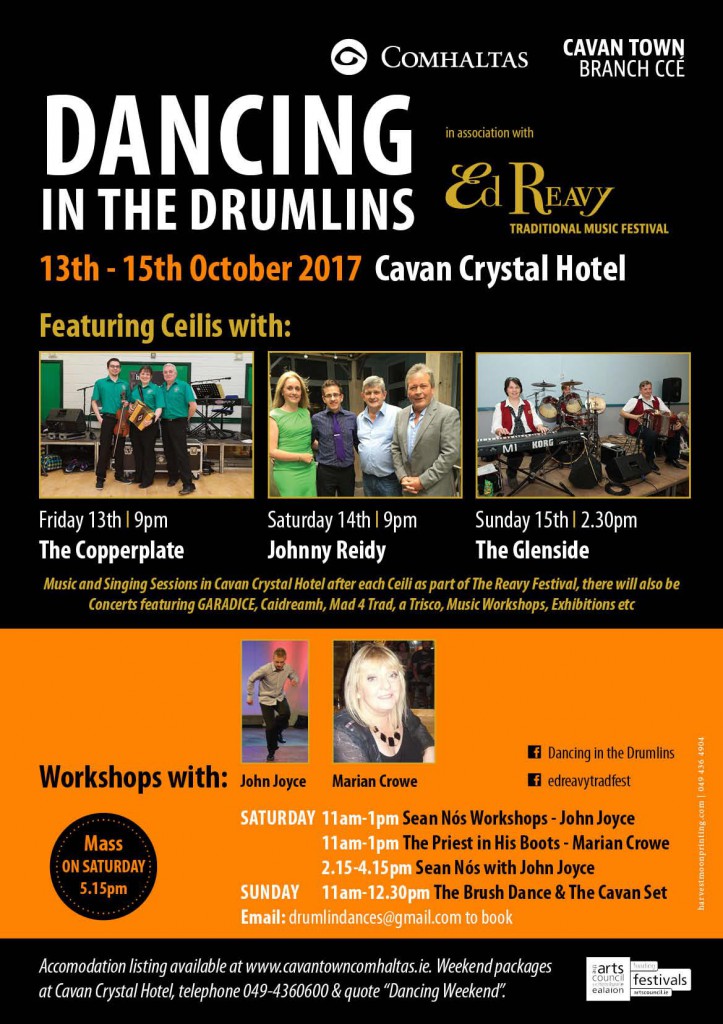 The weekend will see sessions throughout the hotel with music, song and dance for everybody to enjoy