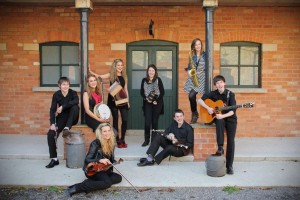 Fleadh Cheoil na hEireann 2012 Clár and Cavan Connections Book and CD will be launched by Mr Jack Keys, Chairman of the Fleadh Executive Committee in the Liberty Insurance Dome on Wednesday, August 15th at 8pm.  
The Clár includes all the information required to plan the week at the Fleadh in Cavan including details of events, competitions and articles on important influences in Cavan music. 
The Cavan Connections book is produced by the Fleadh Cheoil na hEireann Clár  Committee.  It was decided to put this book together when it became obvious that the Clár could not accommodate all the articles and photographs that had been collected during research on the musicians and singers, past and present, that have influenced traditional music in Co Cavan.
The accompanying CD, simply called "Cavan Connections" is a unique compilation produced especially for the Fleadh and will feature such artists as Sharon Shannon, Thom Moore, Charlie McGettigan, Aoife Murray, Eleanor Shanley, Fintan McManus and Antóin MacGabhann as well as many local musicians.  Add to that, some original tunes composed by local musicians and you have a fantastic blend of music that celebrates the county's diverse musical heritage. 
The night commences with the youth group, Gleo, all members of Cavan Town Comhaltas. The members are Eimear O'Reilly on fiddle and vocals, Katie Flynn on banjo and vocals, her sister Aoife on button accordion, bodhrán and sean nós dancing, Aoife Geoghegan on button accordion and banjo her sister Niamh on concertina and bouzouki, Savanah Donohoe on flute and saxophone, Gareth Tierney on piano accordion and guitar, his brother Séamus on flute and whistles and Damien Bannon on uilleann pipes.
 The audience will then be entertained by FullSet  who create a stunning and unique sound that is full of energy and innovation, whilst all the time remaining true to their traditional roots. Having received great acclaim for their debut album "Notes At Liberty", FullSet are quickly becoming one of the most well known bands in the Irish music scene today. In October 2011 they were honoured by being announced as the winners of the RTÉ/RAAP Breakthrough Annual Music Bursary Award.
 To date FullSet have performed at various festivals and venues across Europe including the Kann al Loar folk festival in Landerneau, Brittany, and also the Festival Interceltique de Lorient. During this time they have shared the stage with some of the biggest names in folk and world music including Moya Brennan, Fred Morrison, Lúnasa, Carlos Núnez, Andy Irvine, Donal Lunny and Beoga.
 A night not to be missed.